Messages

141
Location
Vehicle

N/A
Just a teeny IMHO having spent a wonderful summer in our 6.1 Beach, mainly in Denmark. As a small family with dog we have concluded , contrary to my Beach pride previous postings, that we made a mistake

. Apologies too for the lack of recent postings, new job, new house, life has been chaos but good chaos.
We love Cali life - no regrets but this model isn't for us. We want kitchen smells, a teeny fridge and dont need the whopper bed downstairs nor the double sliding doors. We don't like camping for long periods. It only works for us for one or two nights max. As a Covid busting, beachside, Euro Tour holiday wagon a Cali cannot be beaten but we dont want to set up a scout camp every time we stop.
The Beach's NavPro is dire, VW connect wifi a rip off, we dont need extra inside and outside LED's, nor extra front and rear lights and dont like the black interior. And what genius made the roof black on the Tour edition? Someone that enjoys poaching young children? And to add insult to sticky toddlers...the front canvas doesnt open? What's this? Prison spec?
Traction on the 2wd 6.1's ( even on the fabulous Michelin Cross tyres) is scrabblingly poor, especially when loaded.
I want a 230v hook up ( optional and not on mine...Zzzz) and two seats that swivel rather than our one. The table doesn't swing up, it's in the door and is poorly designed for stowage. So we've sold the 6.1 Beach Tour. The supplying dealer called me up and offered me 3% less than I paid new for it so I can avoid the DVLA registration nightmare and road tax cost. Goodbye Bubble Beach 6.1. Hello Bubble Coast 6.1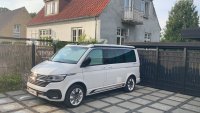 Have ordered for March 2021 delivery. I need a no silly extras specification to keep the residual healthy.
LHD DSG 4motion Coast with
Pale wooden floor that matches the pale Coast cabinets
Front canvas window
Auxiliary heater no remote
Plug in 230v
Comfort mattress
80L tank
Cheapest parking option with front and rear sensors and camera
Rubber mats
Climatronic
Acoustic tinted glass
Free red paint, will wrap the top half in white
I've kept my moon disc alloy wheels with tyres too to swap over...I'll be putting up a pile of Beach only accessories for sale soon.
Don't tell my wife that I have admitted that I was wrong, we're out of smelling salts but just thought I'd post the post that I'd like to have read before buying our Beach 6.1. IMHO.