Messages

851
Location
Vehicle

T5 SE 174
Edit: This was our leaky footwell saga. Skip to the end for how I fixed it.
On our first day arriving in Spain this August we spent a couple of hours driving in a real heavens open downpour. When we arrived at our first site my wife said the passenger footwell was soaked. Luckily the floor mat had taken the brunt of it. You could almost ring it out it was so saturated but a day in full sun pretty much fixed it.
I've read the other posts about footwell leaks but ours seems possibly different. Twice on the holiday we had overnight thunderstorms with huge downpours but both times the footwell was dry.
The weekend after we returned, we camped again, driving in a downpour to the Cotswolds. Again the footwell was wet.
Water only seems to come in when we are driving.
I struggle to believe the water is coming from above. All rubbers seem tight. I read others posts about pooling in the front wings and water coming from the wheels.
I used the rubber reviver on all our rubbers although they seemed ok to me (a 2008 van) and noticed this area was very dirty on passenger side (cleaned in picture) but clean on driver's side.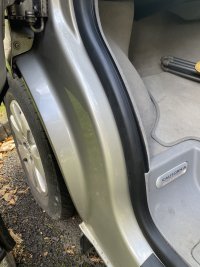 I wonder if the rain was getting in there and working it's way upwards?
If the leak was from the A pillar, surely it would leak when parked with roof down and definitely when parked in downpour with the roof up. It does neither.
Any ideas?
Last edited: