Borris
Top Poster
VIP Member
Messages

4,343
Location
Vehicle

T6 Beach 150
Whilst there will always be a few buyers that will want a new California regardless of cost, out of pure interest, I have been looking at the prices of new examples for some time, especially the well specced ones, and doubting their worth given the current asking prices. Someone recently posted a photo of an advert for a non 4motion Ocean that was priced up in the mid £80ks!!!
A dealer told me last year that sales had been dropping year on year for the past two years. This may be an indication that they have either reached their ceiling or are very close to it. However, I accept that the Covid effect may well have altered the situation since then.
Here is a vehicle I specced on the VW configurator. I didn't press every option but with the exception of the snazzy paint job, merely configured a vehicle that I would be similar to the ex demo van I bought back in October 2015.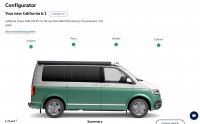 As you can see the price came in at a tad short of £80k. My 2015 Cali SE which the dealer had loaded with just about every option cost £59k. Even taking into account inflation, is it worth the extra £20k? I am a big Cali fan but some of the prices being asked now for a van with no hot water or toilet facilities are in my opinion ridiculous.
I know I am comparing fish to fowl but here is an advert for this years top of the range Mercedes Benz Autosleeper Coachbuilt great white. See what you think?