Messages

24
Location
Vehicle

T6 Ocean 204 4Motion
I don't like the noise and harshness of the hob igniter button. It feels agricultural and clunky. I changed it to battery powered. It's now a pleasure to light the gas. It uses a single AA battery to supply the spark. Total cost £16. An easy fix, if a little fiddly.
Here is how I did it for anyone who'd like to do the same:
Tools you will need: flat blade screwdriver, crosshead screwdriver, cable connectors, pliers, insulating tape, needle file, drill, cable clip
1) Buy this: Onlyfire barbecue electronic igniter kit replacement fits Weber Spirit 210/310 series gas grills
2) Remove the original igniter button. Working from underneath the hob, pull off the 2 wires from the original igniter and then undo the nut that holds it in place. A flat blade screwdriver is enough to ease the nut loose.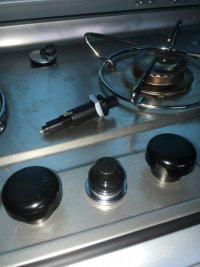 The vw spark generator removed and the new button installed
3) Connect the 2 wires you have just pulled off to the ends of the 2 new ignition wires. One of the new wires has a porcelain fitting which you need to cut off and replace with a connector.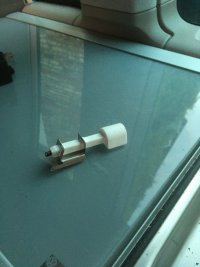 Cut this porcelain fitting off
The other wire has a spade connector which fits ok straight onto the original one. Wrap the joins carefully with insulation tape, otherwise the pesky spark will try to jump early before it gets to the burner.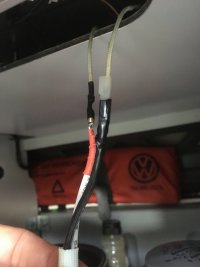 Both wires need wrapping with insulating tape
3) Screw the generator unit into place.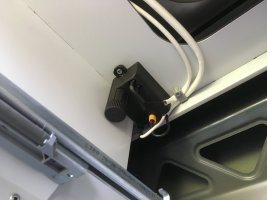 I put it at the back in the corner above the drawer because it fits nicely here, doesn't interfere with the drawer and gives easy access to change the battery.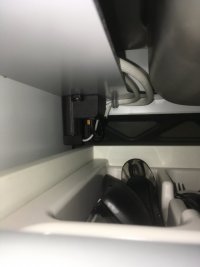 Generator fits nicely above the drawer
First remove the drawer and the shelf. Before screwing it up, grind the plastic lugs off the back of the unit so that it sits flush. Drill a pilot hole and use small wood screws or self-tappers.
4) Install the new ignition button. It fits in the same hole as the original but needs 2 little slots cutting each side to allow the moulded locking arms to pass through. I used a needle file, which worked well (despite the nails on blackboard squeal) because the stainless top is very thin.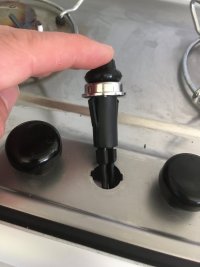 Slots shown from the top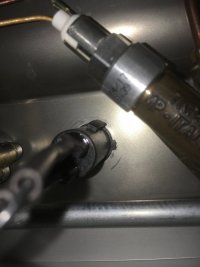 And from underneath
5) Pass the wires under the sink through to the ignition unit. Use a cable clip next to the generator to keep them tidy
6) Connect the wires to the generator unit
Hope this sparks your interest