66tim99
Top Poster
Lifetime VIP Member
Messages

2,547
Location
Vehicle

T6.1 Ocean 150
I'm seriously considering the Citroen Ami for pootling around London: shopping trips, dog walking, visiting elderly relatives. Highly affordable at £7,695, can be charged to 100% from a normal domestic socket in three hours, and will go from zero to its top speed in just 10 seconds (The Bugatti Centodieci takes over 13 seconds to reach just 80% of its top speed).

OK - the Ami might be little more than a souped up golf cart, but for city roads it is ideal.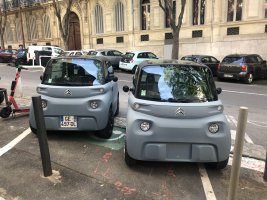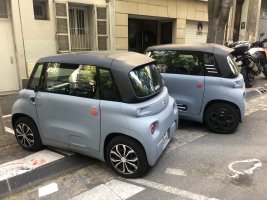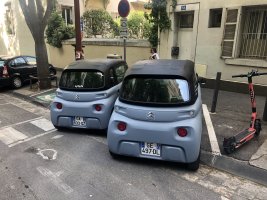 I saw a pair of them in Marseille a few weeks ago. Was so taken with them I took 3 photos.
Perfect if you need to drive in the city with one passenger and a few shopping bags.
What is the top speed, by the way (and is the Bugatti's 300mph?!)
I'd never heard of them, but my Dad was buzzing - he lives in Leeds and is just waiting (too long) to sell his diesel Skoda and buy an electric city car. He just can't bring himself to do it, and hire a car for longer journeys (probably 6 times/year for £30/day)