Messages

383
Location
Vehicle

T5 SE 174
My roof has over the years occasionally said it was up when it was down. I've owned it from 2009 and know the sound it makes when closing so have ignored this. I think last summer this finally became worse. Coincidentally after last summer I decided I wanted to replace the control unit as the screen was now useless. The new replacement was a newer model and now chimed when I was driving with the "Roof Open". This was annoying. Also at Easter the sound of the roof closing changed. I would say my roof makes 3 different sounds when closing. Now the final noise didn't stop but just kept repeating as if it was trying to lock but something wasn't finishing. Where the noise used to stop by itself and then I'd take my finger off the button, it just kept going.
I started to read the dozens of roof posts and decided the 4 hall sensors mights be the problem. When I read that these were available to buy for £15 (BMW part number 54347190735) I decided to give it a go And swap them. My van is serviced at Peter Norris a VW specialist in South London. They wouldn't do anything non mechanical and I don't trust any of my local dealers. It seems likely they would have replaced everything in the roof leaving me with a bill between £1000 to £3,500, mainly for labour.
You will need
I bought 4 sensors off eBay which came from Lithuania although I see you can get them from bmwsupply.co.uk (I've just ordered 4 more as parts). Part 54347190735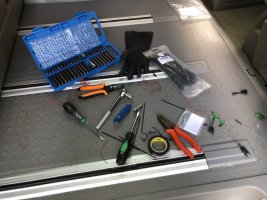 A torx screwdriver TT25
A basic socket set (I found one in our garage that apparently belongs to my wife)
A spline socket set
https://www.amazon.co.uk/dp/B010K5A5PO/?tag=eliteelect-21
Wire trimmer
https://www.amazon.co.uk/dp/B083LKTZXT/?tag=eliteelect-21
Electrical tape
https://www.amazon.co.uk/dp/B08QHTZ2NR/?tag=eliteelect-21
Thin cable ties
Perhaps a pen knife and flat head screwdriver
First Raise the Roof

Second, Disconnect the 3 Batteries
I used part of Loz's great instructions on how to disconnect the 2 leisure batteries and starter battery from his
HOW-TO INSTALL DC-DC CHARGER TO REPLACE VW SPLIT CHARGE RELAY​
so I will skim through this bit. You just need to disconnect the negative terminal of each. I wore a rubber glove when touching terminals.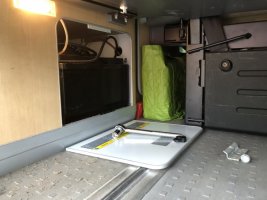 The battery exhaust tube came off whilst doing this, so I reconnected.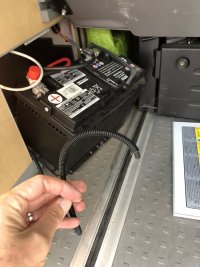 You need the socket set and spline socket to remove passenger seat. 2 splines bolts at the rear and 2 normal 13' bolts at the front.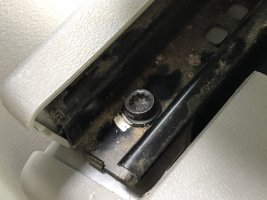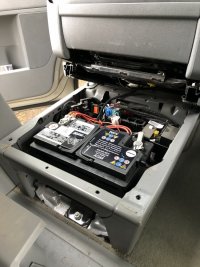 And finally the starter battery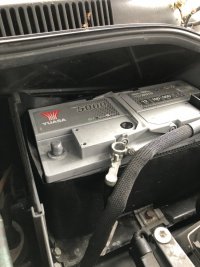 Now You Can Remove the Sensors
Remove plastic cover using TT25 torx screwdriver. It's a torx screw at the front and it's a kind of clip at the back. Very easy.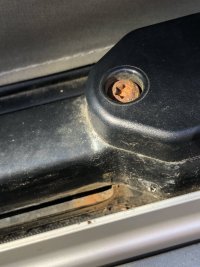 Remove the Front Sensor
You are going to remove each sensor and cut the 2 wires and then insert your new sensors and connect the wires together and then wrap around with electric tape.
The front ones are easier so I would start with them. You need to twist the hydraulic hose out of the way and jiggle with the clips to get the sensor out. I used a flat head screwdriver and a pen knife to loosen the clips and push it up from below. It's very likely that the clips might break but it's a good idea to get an idea of how this fits as it will make it easier to put the new one in.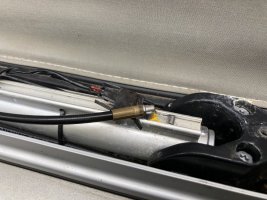 Cut the wire to remove it, leaving enough wire on the loom to connect to new sensors. I got better at this as I went along and by sensor 4 I think it was a tidy job.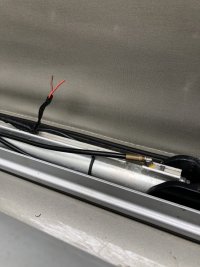 I learnt to prep the new sensor wiring before putting inserting it. I wrapped some electrical tape around the wires leaving the new sensor, probably 10cm and cut the wire at 20cm and trimmed off the plastic, ready to connect.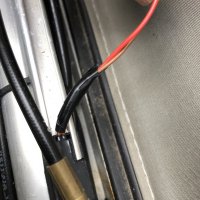 Connect the wires together (I watched various YouTube videos about how best to do this, I didn't solder anything just twisted wires together and then squeezed with pliers)
TBC, please don't comment so I can put posts together